Tell me about the kind of volunteering you choose to do.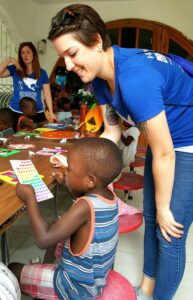 I have volunteered with Headwaters Relief as well as All Hands and Hearts, both are disaster Relief organizations.  I have volunteered with Headwaters in Haiti, Texas and Arkansas. I volunteered in Puerto Rico and will soon with be going to the U.S. Virgin Islands to help with Hurricane Maria relief.
What is your "why" for volunteering? 
I think volunteering can make a lasting impact on the individual you are helping, the community, as well as yourself. It gives you the ability to gain new experiences, develop skills, and meet new people while giving back. If I can make a difference in one person's life, then I am happy.
What values and/or lessons would you pass along to someone? 
Be flexible. It's said before every trip but it's so true! You have to be open to all kinds of experiences because you never know what is going to happen during the day. One day you can be mucking and gutting a house that is filled with cockroaches and the next day you could spend the afternoon talking with a homeowner about their experience and trauma.
What do you do to avoid burnout? 
Travelling definitely helps me avoid burnout. I try to do an international trip at least once a year.  I also try to run a few times a week, especially in the summer. Also, have you tried having a cat? They're Pretty great.