Over the past two years, "A River of Hope" volunteers have worked in New Orleans, assisting with the clean up efforts in response to the Hurricane Katrina disaster. Through their efforts, these volunteers have gained valuable experience in flood clean up. What many of those same volunteers experienced in Rushford, Minnesota over Labor Day weekend 2007 was very similar work; gutting homes, cleaning up debris, and responding to families in need.
The volunteers who worked in Rushford were a part of the Headwaters service volunteer project, the ne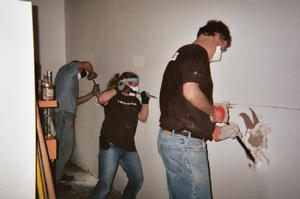 wly incorporated service organization of the Orion Associates, Meridian Services, Zenith Services, Orion Intermediary Services Organization family of companies. As a non-profit volunteer organization, Headwaters' goal will be to continue the work begun by "A River of Hope," providing a means to bring volunteers to serve at future disasters, in other locations, as the need arises. In the future, we expect that "A River of Hope" will be looked back on as the first, and perhaps the most significant, project of what became the Headwaters volunteer service project.
While there were similarities between New Orleans and Rushford, there were significant differences as well. The damage to the city of New Orlea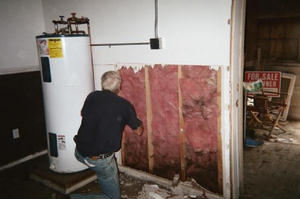 ns was vast, on an almost unimaginable scale. The damage in Rushford was far more limited, as it is a significantly smaller town. While the woefully inadequate response to the disaster in New Orleans remains a national scandal, the response in Rushford was an impressive, collaborative, organized effort to help make recovery happen.
When the Headwaters volunteers arrived, they reported to the United Way headquarters and were given specific assignments and directions to the areas where they were to spend the day working to help others put their lives back together. Volunteers were oriented to the work, offered food and water, and transported to their work sites.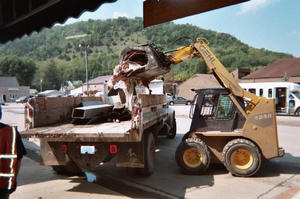 Although the town was severely damaged, with a total of ninety-nine homes completely or partially destroyed, as well as the damage to most of the town's businesses, there was a sense of hope. While in Rushford, the volunteers saw family, friends, neighbors and complete strangers from all over the state helping the people in Rushford. There were no questions about "should we re-build." The attitude seemed to be "how fast can we do this." There was no "waiting for help" to come; it was already there.
The homes and businesses in which the volunteers worked had significant water damage, which varied from neighborhood to neighborhood; from flooded basements to the total loss of properties. Fortunately, many people had been able to move their valuables to upper levels or on top of tables. One volunteer saw a box of photo albums that had been placed on top of the kitchen table and, as a result, had been saved from the flood waters.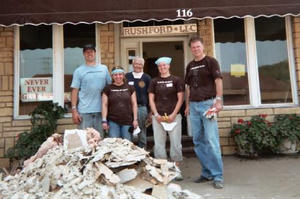 Most importantly, the volunteers saw what volunteerism brings to support victims of natural disasters; it brings hope. The volunteers worked alongside of homeowners who were present and a part of the process. The homeowners were able to use the resources available to them to find shelter, food, assistance and to remain in the area-to remain near family, friends, work and community.
After two years of work in New Orleans, the Headwaters volunteers appreciated being a part of the efforts to support the people in their own state of Minnesota, and were proud to be a part of the significant response of so many Minnesotans to the flooding.
Donations to the Headwaters project can be made payable to the Zenith Services, Incorporated Disaster Relief Fund, and all donors will receive a charitable tax deduction receipt in the mail. In order to donate, please contact Cheryl Vennerstrom, at 763-450-5007, or e-mail her at .
All tax deductible donations to the Headwaters project should be made to the:
Zenith Services, Incorporated Disaster Relief Fund

44 North 28 th Avenue, Suite A,

St. Cloud, Minnesota 56303
Headwaters Rushford, Minnesota Project Volunteers
Michelle Bollinger, Marie Christofferson, Dave Comb, Alicia Corbett, Tom Crampton, Devey Dahlheimer, Gina Guggisberg, Stephen Hage, Jason Hoffrogge, Deb Holland, Leah Johnson, Christa Meyer, Sarah Olsen, Lyndsay Peterson, Josh Richardson, Renee Rolling, Malinda Rundquist, Sherry Smith, Cheryl Vennerstrom, Dede Worsham.