Marking the two year anniversary  of Hurricane Katrina,  "A River of Hope" Volunteers makes eighth trip to New Orleans
Hurricane Katrina struck New Orleans in the early morning of August 29, 2005, breaking through Mississippi River levees in fifty-three places, flooding nearly 80% of the city.
Two years later, some areas of New Orleans remain devastated and abandoned. There is still a staggering amount of work that needs to be to be done. The "River of Hope" project volunteers responded t this need by returning to New Orleans for an eighth major relief trip, to assist with the rebuilding efforts, over the weekend of September 14th to 17th.
Neighborhoods are still quiet; with unoccupied houses, empty basketball courts and deserted businesses. The nearest grocery store is miles away. Some houses remain un-touched since the hurricane, with furniture and loose boards forming what looks like a mismatched jigsaw puzzle. There are still remnants of the storms furry; street signs down, streets lights dark, empty platforms where houses once stood and stray animals.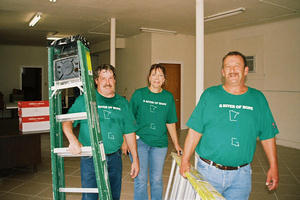 While one can see that some neighborhoods are beginning to come back to life, the atmosphere as been forever changed. Without the support of their government, community, neighbors and friends, the decision to return can be difficult for many individuals. People are still overwhelmed, they have no where to turn. What went from a tight knit community of homeowners to a recovery zone is still unbelievable two years later.
The "River of Hope" project made a commitment to help re-build in this area. During our trips, our volunteers, including construction workers, carpenters, electricians and plumbers, have gutted over fifty homes, helped re-build five homes for elderly individuals and are currently working on a community mental health resource center, a day care center, a domestic abuse shelter and an adult day care center.
The 'River of Hope" project intends to make a ninth and final trip to New Orleans over Thanksgiving weekend, 2007.
Donations to "A River of Hope" can be made payable to the Zenith Services, Incorporated Disaster Relief Fund, and all donors will receive a charitable tax deduction receipt in the mail. In order to donate, please contact Cheryl Vennerstrom, at 763-450-5007, or e-mail her at .
All tax deductible donations to the "River of Hope" project should
be made to the:
Zenith Services, Incorporated Disaster Relief Fund
44 North 28 th Avenue, Suite A,  St. Cloud, Minnesota 56303
Two Years Later, New Orleans Residents Still Waiting for Help
The following article, written by Stephen Hage, Chief Administrative Officer for the organization and "A River of Hope" Volunteer, has appeared in a number of publications.
As the flood waters poured into New Orleans' Ninth Ward, "John" struggled to carry his grandchild to safety. In a sudden rush of water, the child was torn out of his arms and drowned. Since the horror of that day, "John" has had heart surgery, and was supplied with oxygen and a scooter. When he returned to his home, however, there was no electricity to operate the oxygen machine and the government would not provide him with a ramp so that he can get out of his home. Now "John" suffers from post traumatic stress syndrome.
"Mary" lives with the loss of a brother, who had made it to the relative safety of the New Orleans Superdome, but returned when he realized she wasn't there, only to be drowned in the flood waters. She is traumatized and now too medically fragile to leave her home.
Disasters continue to fill the news. There are the recent stories of the I-35W bridge collapse, and the flooding and loss of life in southern Minnesota. Yet, while we are aware of these local, recent tragedies, we should not forget the significance of August 29th. This date marks the second anniversary of Hurricane Katrina, a catastrophe that changed one of our country's great cities and the lives of thousands forever.
After two years, one would assume that all has returned to normal in New Orleans. Most would be shocked, however, to see how conditions in the city remain.
In some cases, the situation is as bad as it was in the days after Katrina. Entire neighborhoods of the city are still abandoned and stand in ruins. Thousands of New Orleans residents still live in tiny trailers, in makeshift trailer parks, or parked on the front lawns of their uninhabitable homes.
People are still waiting for promised help so that they can rebuild and return home. These include the people of New Orleans's Ninth Ward, a neighborhood of working lower income people. Many were homeowners, who'd lived in their homes for years, some working multiple jobs, but all struggling to get by.
After the hurricane, they faced the hopelessness of destroyed homes, lost employment, collapsed infrastructure and confusing governmental bureaucracy.
There are those, however, who believe that hope remains. One such group is a Twin Cities based, "A River of Hope," who continue to strive to meet the needs of the people of New Orleans,
"A River of Hope." was founded by Dr. Rebecca Hage Thomley, and has made numerous trips to the area, sending hundreds of volunteers to work in the neighborhoods most devastated by the storm. These volunteers have included both unskilled laborers who began the initial work on homes and building professionals to have worked to restore the homes. The group has raised and contributed tens of thousands of dollars in order to purchase and ship critical building and relief supplies to the area.
Now the work of "A River of Hope" has expanded to include a free Mental Health Resource Center that the organization established to meet the needs of residents, like "John" and "Mary," who are recovering from the impact of the hurricane. The center has been staffed by volunteer social workers from Minnesota as well as national mental health professionals.
Information about "A River of Hope" and the Mental Health Resource Center may be found at www.ariverofhope.com.
"River of Hope" Project
Participants
Curt Bennett, Ryan Boes, Judy Breyfogel, Scott Carlson, Alicia Corbett, Tim Engstrom, Gina Guggisberg, Jason Hoffrogge, Kathy Holz, Jennifer Jackson, Bill Jeans, Doug Jeans, Jory Jeans, Steve Johnson, Pastor Warren Jones, Jason Kinsella, Steve Kurtz, Jeremy Laberda, Dan Leitner, Ken Lom, Cory Minke, Todd Minke, Sarah Olsen, Gary Sauer, Robert Score, Joseph Stumne, Alexander Thomley, Luke Thomley, Rebecca Thomley, Toni Thulen, Tony Vanelli, Cheryl Vennerstrom
"River of Hope" Project Sponsors
The following agencies and businesses have generously contributed to our "River of Hope" project, and many have done so several times. In addition, hundreds of individuals have given to our efforts as well. We would like to express our gratitude and deep appreciation to everyone whose donations have made our work in New Orleans possible. Thank you!
ABetter Inspection — Blaine
Abrams & Smith – Minneapolis
AC Carlson Appliances – New Hope
Ace Hardware – Long Prairie
Afton Alps — Hastings
Alan Michael Design — Edina
Alpine Capital LLC
Ambiance@53 – Little Falls
Anchor Bank – Wayzata
Anderson Engineering
Apperts Food
Archetype Signmakers — Eagan
Arthouse, Incorporated — Minneapolis
Artistic Stone, Incorporated — Avon
Behind Bars Bike Shop — Minneapolis
Berg Bag Company
Bethel University (Social Work Group)
Builders Association of Minnesota – Saint Paul
Bird Island United Methodist Church
Blaine Jaycees Club
Bookin' It – Little Falls
Bonanza Restaurant
Buca De Beppo — Osseo
Camille's Sidewalk Café
Chili's
Chipotle
City of Bird Island
Copeland Buhl Company
Creative Shears
Crestliner, Incorporated — Little Falls
Crystal Kuemper and Quilters
Curves — Crystal
Daisy a Day Floral and Gift — Sartell
Dan Leitner C.P.A. – Blaine
Davanni's Pizza – Waite Park
Day Distributing Company – Maple Plain
Dunwoody Institute – Minneapolis
El Loro Mexican Restaurant — Crystal
Emma's Restaurant & Lounge
Energy Solutions International – Saint Paul
Equinox Creative Production
Evergreen Equipment – Little Falls
Everyday People Store
Faith United Methodist Church
Falls Furniture — :Little Falls
Family Dentistry – Minneapolis
Five Star Heating & Air
Four Seasons Chiropractic — Plymouth
Fun Factory Day Care
Furniture Clearance Center
Geriton Medical Supply
The Gilbert & Sullivan Very Light Opera Company — Minneapolis
Glacier Plumbing — Cedar
Grand Rios – Brooklyn Park
Grumpy's Bar — Minneapolis
Harding Lastrup Snodusters Club
Hirshfield's
Hollywood Video – Blaine
House of Pizza — Sartell
House on Crystal Lake
Hunstiger Hillcrest Farms
Indoff – Sauk Rapids
Industrial Metals, Incorporated
Innovative Surfaces, Incorporated — Hastings
Innsbruck Jewelers – New Brighton
Italian Pie Shop — Minneapolis
Jerry O. Parker – Salon Levanté — Minneapolis
Jungle Theater – Minneapolis
Keep In Touch Massage
Kindercare
Kurtile Ceramic Company – Brooklyn Park
Kvasnick Photography – Saint Paul
Lagoon Cinema – Minneapolis
Lava Links — Roseville
Lily Pad Ceramics
Lions Club of Saint Augusta
Local Motion – Minneapolis
Lom Accounting Service
Long Prairie Food Center
Long Prairie Lumber Yard
Long Prairie Packing Company
Loring Corners — Minneapolis
M & I Bank
Maggiano's Little Italy – Bloomington
Mahowald Insurance Agency
Majors Sports Café
Mankato Truck Repair
Mant's Bowling
Marco Business Products
Mark VII Distributing – Saint Paul
Minneapolis Floral – Minneapolis
Minnesota Department of Transportation District 3 Employees — Baxter
Minnesota Public Radio
Minnesota Sandplay Therapy Group
New Century Partners — San Francisco, California
Nordic Insulation, Incorporated — Blaine
Nordic Ware
Northeast Tree, Incorporated
Northern PCS Services
Northern United, Incorporated — Little Falls
Northwestern Bookstores – Maple Grove
Nowthen Nursery — Nowthen
Oakridge Elementary
Office Depot
Old Spaghetti Factory — Minneapolis
Olive Garden – Brooklyn Center
Petco
Petersen Motorworks, Incorporated
Piazza's Italian Ristorante
Po-Knee Toys — Wayzata
Planet Beach
Pratt Homes
Priscilla Circle of Linden Hills Church
Professional Looks Etc. Salon
Promotion Resource Alliance
Quality Label
Quizno's
Randall Building Supplies
Red's Auto – Pierz
Remodelers Choice — Minneapolis
Rick Day Day Distributing Company
Richfield Flowers & Events — Richfield
Robin Lee's Hallmark — Crystal
Roly Poly Sandwiches — Crystal
Sacred Heart Elementary
Saint Sabrina's
Salon E!
Salon La Terre
Sherwin Williams
Simon Delivers
Spalon Montage
Spectrum Printing – Little Falls
Spectrum Transportation – Maple Grove
Stems and Vines
Strategic Equipment & Supply – Saint Cloud
Styer Transportation – Lakeville
Salon La Terre — Minneapolis
Sam's Club – Saint Cloud
Scrapbooks Plus — St. Cloud
Smith Brother's Decorating Center – Ham Lake
Spalon Montage
Spectrum Transportation
Sweet Taste of Italy — Crystal
The Red Rose — Minneapolis
Theisen Building Supplies – Kimball
Thielen's Meats — Little Falls
Tech Builders – Fairmont
Time Out Sports Bar
Tires Plus – Blaine
Todaze Hair
Trillium Services – Duluth
Trimpac, Incorporated – Saint Cloud
Twin City Tile & Marble Company – Saint Paul
Valvoline
Victory Auto Service — Blaine
Voyager School
Walgreens
Warner Manufacturing Company — Minneapolis
Western Bank – Mounds View
Yellowstone Quilt