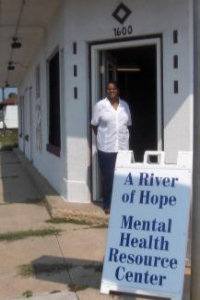 "A River of Hope" has opened a free Mental Health Resource Center in the Ninth Ward of New Orleans, in January, to meet the needs of residents recovering from the impact of Hurricane Katrina. The center is staffed by volunteer social workers from Minnesota as well as national mental health professionals.
The River of Hope Mental Health Resource Center is modeled after the Walk-In Counseling Center (WICC) in Minneapolis, a nationally recognized program which has allowed the "River of Hope" to model its systems and operations on their program.
The "River of Hope" project began as a Hurricane Katrina disaster relief effort immediately after the storm. The organization has made several trips to the New Orleans area and brought over 300 volunteers. What began as a volunteer mission with employees of the Orion Associates, Meridian Services and Zenith Services organization, has evolved into a statewide volunteer effort including contractors, plumbers, electricians, roofers and other community volunteers. In addition, we have been joined by volunteers from Michigan, Wisconsin, Utah, Arkansas, Colorado, Idaho, Washington and Germany.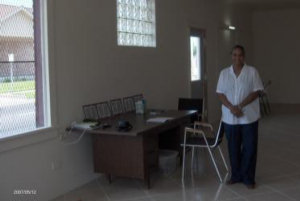 During the course of our efforts in New Orleans, we recognize that there are unmet mental health needs of people recovering from the effects of Hurricane Katrina. The River of Hope Mental Health Resource Center conceived and developed
in an effort to respond to those needs.
One of the significant successes of the "River of Hope" project has been that we have developed a relationship with the community in the Ninth Ward that is characterized by a high degree of trust. This has served as the foundation upon which we are able to provide this service to the people of New Orleans.
"As an organization we have been persistent and committed in our clearing and re-building efforts. Mental health support, however, is more congruent with the work we offer as a Human Services provider. Among the lessons we learned through our River of Hope experience is the power of an unflagging grassroots efforts … what can be accomplished and how it can grow. We are excited about using this model for mental health support in New Orleans, and for any future disaster relief effort."
Dr. Rebecca Thomley,
Chief Executive Officer, Zenith Services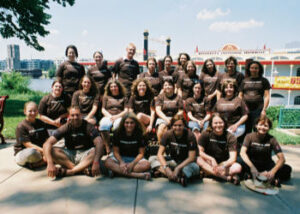 "A River of Hope" Mental Health Resource Center
Volunteers
Jennifer Abrahamsen, C. Joseph Anklam, Jessica Bergstrom, Laura M. Biggham,
Michelle Bollinger, Marie Christofferson, Alicia Corbett, Devey Dahlheimer,
Jeff Daiker, Cynthia Gieseke, Gina Guggisberg, Ajda Johnson, Melissa Mak,
Tammy Maschler, Jennifer Meixell, Sarah Olsen, Lyndsay Peterson, Kari Reinhart,
Malinda Rundquist, Jennifer Schraut, Jodi Sell, Rebecca Thomley,
Leann Thompson, Cheryl Vennerstrom