"A River of Hope" Relief Project – Orion Associates, Meridian Services and Zenith Services Employees return to New Orleans to help with Hurricane Katrina clean up over Fathers' Day Weekend
Joined by general contractors, plumbers, and electricians, our "River of Hope" volunteers traveled to New Orleans over Father's Day weekend to assist with the clean up and rebuilding efforts in the Ninth Ward and Saint Bernard's Parish. This was our organization's fourth trip to the region.
In order to raise funds for this trip, we conducted a number of efforts, including a Yard Sale and a "Fashion for Hope" show at the Jungle Theater, Minneapolis. Through these efforts, we were able to fill a semi-truck with sheet rock, tools and other building supplies and materials. While we were in New Orleans, we gutted several homes so that additional clean up and repair work can begin. We added supplies to the community resource center that we established the first time that we were there, making these supplies available to the neighborhood and other volunteers. We gave some of our supplies to representatives of Saint Bernard's parish, where 20,000 residents have returned, but are struggling under the current conditions. One of sites at which we have been working, the New Salem Baptist Church, is now complete. Regular services are being held and the church is serving a focal point, serving the community.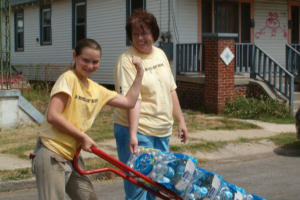 We are grateful for the opportunity to help in New Orleans. There is not enough media coverage of how poor the conditions are there and how little is being done to help the poorest people and the elderly. While we feel like we have accomplished a lot, there are still few volunteer organizations in the area gutting homes and rebuilding as we have done. We plan to return to New Orleans in August, as the deadline for homeowners to show progress on their homes or risk losing them is August 29th. We plan to continue to work with Minnesota contractors, plumbers, electrician and roofers to support the people of the Ninth Ward and Saint Bernard's Parish.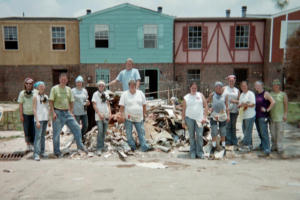 We want to thank everyone who has supported and contributed to this cause and would invite others to do the same. In order to donate, please contact Jenny Schraut, 612-432-5915, or e-mail her at . All tax deductible donations should be made to the:
Zenith Services, Incorporated Disaster Relief Fund

44 North 28th Avenue, Suite A St. Cloud, Minnesota 56303

Hurricane Katrina Clean Up
"River of Hope" Project Participants – June 2006 Amy Anderson, Penny Archer, Ryan Boe, Judy Breyfogle, Jeffrey Chase, Alicia Corbett, Alec Demgen, Julia Demgen, Rachelle Engelking, Dee-Ana Farness, Janis Federer, Thomas Feucht, Jeff Greischar, Laurel Greischar, Shauna Greischar, Sue Greischar, Vanna Greischar, Gina Guggisburg, Lyndsay Hage, Madeleine Hage, Marya Hage, Stephen Hage, Cindy Hand, Kelly Hand, Shelley Hawes, Gregory Hinrichs, Kathleen Holz, Pastor Warren Jones, Barbara Josephs, Kathryn Knuth, Elizabeth Kunkel, Daniel Kurtz, Lori Kurtz, Steve Kurtz, Jennifer La Chance, Katelyn Lange, Heather Lauer, Daniel Leitner, Emily Leitner, John Lom, Kenneth Lom, Whitney Lubrant, Tammy Maschler, Shelley Nelson, Sarah Olsen, Delores Price, Jennifer Schraut, Sara Scott, Emily Stelzer, Shane Stenlund, Trevor Sweet, Alexander Thomley, Luke Thomley, Nicholas Thomley, Rebecca Thomley, Toni Thulen, Kristy Toft, Sara Treml, Lara Trujillo, Jennifer Van Rooy, Cheryl Vennerstrom
"River of Hope" Project Sponsors
The following agencies and businesses have generously contributed to our "River of Hope" project, and many have done so several times. In addition, hundreds of individuals have given to our efforts as well. We would like to express our gratitude and deep appreciation to everyone whose donations have made our work in New Orleans possible. Thank you!
ABetter Inspection – Blaine
Abrams & Smith – Minneapolis
Ace Hardware – Long Prairie
Afton Alps – Hastings
Alan Michael Design – Edina
Alpine Capital LLC – New Brighton
Apperts Food
Anderson Engineering
Apperts Food
Artistic Stone, Incorporated – Avon
Berg Bag Company
Bethel University (Social Work Group)
Bird Island United Methodist Church
Bonanza Restaurant
Buca De Beppo – Osseo
Camille's Sidewalk Café
City of Bird Island
Copeland Buhl Company
Creative Shears
Crystal Kuemper and Quilters
Curves – Crystal
Daisy a Day Floral and Gift – Sartell
Dan Leitner Consulting – Blaine
Davanni's Pizza – Waite Park
Day Distributing Company – Maple Plain
El Loro Mexican Restaurant – Crystal
Emma's Restaurant & Lounge
Equinox Creative Production
Five Star Heating & Air
Four Seasons Chiropractic – Plymouth
Fun Factory Day Care
Furniture Clearance Center
Geriton Medical Supply
Gilbert & Sullivan Very Light Opera Company
Grand Rios – Brooklyn Park
Grumpy's
Hirshfield's
Hollywood Video – Blaine
Hunstiger Hillcrest Farms
Indoff – Sauk Rapids
Industrial Metals, Incorporated
Italian Pie Shop – Minneapolis
Jerry O. Parker – Salon Levanté – Minneapolis
Jungle Theater – Minneapolis
Keep In Touch Massage
Kindercare
Lagoon Cinema – Minneapolis
Lily Pad Ceramics
Local Motion – Minneapolis
Long Prairie Food Center
Long Prairie Lumber Yard
Long Prairie Packing Company
M & I Bank
Maggiano's Little Italy – Bloomington
Majors Sports Café
Mankato Truck Repair
Marco Business Products
Mark VII Distributing – Saint Paul
Minneapolis Floral – Minneapolis
Minnesota Public Radio
Nordic Ware
Northern PCS Services
Oakridge Elementary
Office Depot
Old Spaghetti Factory – Minneapolis
Olive Garden – Brooklyn Center
Papa Murphys – Crystal
Petersen Motorworks, Incorporated
Piazza's Italian Ristorante
Po-Knee Toys – Wayzata
Planet Beach
Professional Looks Etc. Salon
Promotion Resource Alliance
Richfield Flowers & Events – Richfield
Robin Lee's Hallmark – Crystal
Roly Poly Sandwiches – Crystal
Sacred Heart Elementary
Saint Sabrina's
Salon E!
Salon La Terre – Minneapolis
Sam's Club – Saint Cloud
Sherwin Williams
Simon Delivers
Spalon Montage
Spectrum Transportation – Maple Grove
Stems and Vines
Strategic Equip & Supply – Saint Cloud
Styer Transportation – Lakeville
Sweet Taste of Italy – Crystal
Tech Builders – Fairmont
The Red Rose – Minneapolis
Theisen Building Supplies – Kimball
Time Out Sports Bar
Todaze Hair
Trillium Services – Duluth
Twin City Tile & Marble Company – Saint Paul
Valvoline
Voyager School
Walgreens
Warner Manufacturing Company – Minneapolis
Western Bank – Mounds View
Yellowstone Quilt