"A River of Hope" Relief Project: Our
Organization is Joined by Community Volunteers and United States Senator
Mark Dayton as We Return to New Orleans for a Third Time to Help with Hurricane Katrina Clean Up"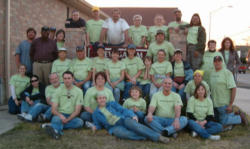 Orion Associates, Meridian Services Zenith Services employees returned to New Orleans over the weekend of March 24th through 28th to assist with the clean up and rebuilding efforts in the Ninth Ward and St. Bernard's Parish. This time, we were joined by volunteer contractors, plumbers, roofers and electricians, as well as by United States Senator Mark Dayton.
This was the organization's third trip to the region. Before we left, we raised enough money and donated supplies to fill a semi-truck with sheet rock, tools, and other building supplies and materials and met the truck on Saturday in New Orleans.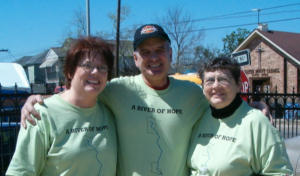 This trip was different than our previous two because of the presence of the building professionals who volunteered there expertise to help rebuild people's homes. These volunteers replaced the roof on one home. They re-wired two other homes and restored the electricity to one. They also installed new bathroom fixtures and prepared the home for sheet rocking. Reconstruction
on the New Salem Baptist church is almost complete. Electricity was restored and, in a beautifully symbolic moment during the weekend, the steeple was illuminated for the first time since the hurricane.
This trip was also different because we were joined by United States Senator Mark Dayton. Rebecca Thomley, our Chief Executive Officer, had met with Senator Dayton on a recent trip to Washington, D.C. Senator Dayton was impressed with our organization's "grass roots" efforts to help others and offered to join us on this trip. Senator Dayton worked alongside our employees and volunteers. We are very grateful for his interest, support and "hands on" efforts.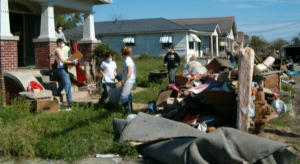 While we were there, our employees and other volunteers gutted several homes
so that additional clean up and repair work could begin. We added supplies
to the community resource center that we started the first time we were there,
which makes supplies available to the neighborhood and other volunteers. We
also gave supplies to the people of St. Bernard's parish, where there are residents who have returned, but are without essential building supplies and cleaning equipment.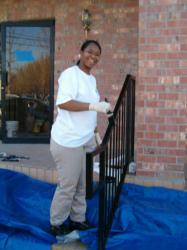 Reflecting upon our experiences in New Orleans, we see that there is not enough media coverage communicating how poor the conditions are there and how little is being done to help the poorest people and the elderly. While we have accomplished much during our three trips, much more needs to be done.
We remain very grateful for the opportunity we have had to help and plan to continue to work with Minnesota contractors, plumbers, electrician and roofers to support the people of New Orleans. We want to thank you for supporting and contributing to this cause, realizing that many of you have already given so much. It was with your help that we able to accomplish such a major undertaking.
We are planning to send another group of employees and volunteers to New Orleans for a fourth time in June. We continue to seek cash donations are needed to purchase supplies and materials for this effort. They can be made payable to the Zenith Services, Incorporated Disaster Relief Fund, and all donors will receive a charitable tax deduction receipt in the mail.
In order to donate, please contact Jill Cihlar, 1-877-656-7466 ext 1101, or at 612-239-6928 or e-mail her at .
All tax deductible donations should be made to the:
Zenith Services, Incorporated Disaster Relief Fund
44 North 28th Avenue, Suite A
St. Cloud, Minnesota 56303
"River of Hope" Project Participants
Jeffrey Chase, Alicia Corbett, Chad Danielson, Senator Mark
Dayton, Alec Demgen, Steve Dorf, Alyssa Dotson, Jeff Greishar, Laurel Greishar,
Marya Hage, Paula Hanninen, Greg Hinrichs, Kathleen Holz, Aaron Featherston,
Sid Featherstone, Trent Johnson, Pastor Warren Jones, Jennifer Jackson, Heidi
Kraus, Laura Kurtz, Steve Kurtz, Steven Lee, Wayne Meyer, Joe Molnor, Rosalee
Molnar, Sam Nero, Shirley Nero, Sarah Olsen, Brenda Reishus, John Richardson,
Sue Richardson, Jenny Schraut, Alexander Thomley, Luke Thomley, Nicholas Thomley,
Rebecca Thomley, Toni Thulen, Jen Van Rooy, Cheryl Vennerstrom
"River of Hope" Project Sponsors
The following agencies and businesses have generously contributed
to our "River of Hope" project, and many have done so several times.
In addition, hundreds of individuals have given to our efforts as well. We
would like to express our gratitude and deep appreciation to everyone whose
donations have made our work in New Orleans possible. Thank you!
ABetter Inspection – Blaine
Abrams & Smith – Minneapolis
Ace Hardware – Long Prairie
Afton Alps – Hastings
Alan Michael Design – Edina
Alpine Capital LLC – New Brighton
Anchor Bank – Wayzata
Anderson Engineering
Apperts Food
Artistic Stone, Incorporated – Avon
Berg Bag Company
Bethel University (Social Work Group)
Bird Island United Methodist Church
Bonanza Restaurant
Buca De Beppo – Osseo
Camille's Sidewalk Café
City of Bird Island
Copeland Buhl Company
Crystal Kuemper and Quilters
Curves – Crystal
Daisy a Day Floral and Gift – Sartell
Dan Leitner Consulting – Blaine
Davanni's Pizza – Waite Park
Day Distributing Company – Maple Plain
El Loro Mexican Restaurant – Crystal
Equinox Creative Production
Five Star Heating & Air
Four Seasons Chiropractic – Plymouth
Fun Factory Day Care
Furniture Clearance Center
Geriton Medical Supply
Gilbert & Sullivan Very Light Opera Company
Grand Rios – Brooklyn Park
Grumpy's
Hirshfield's
Hollywood Video – Blaine
Hunstiger Hillcrest Farms
Indoff – Sauk Rapids
Industrial Metals, Incorporated
Italian Pie Shop – Minneapolis
Kindercare
Lily Pad Ceramics
Long Prairie Food Center
Long Prairie Lumber Yard
Long Prairie Packing Company
M & I Bank
Maggiano's Little Italy – Bloomington
Majors Sports Café
Mankato Truck Repair
Marco Business Products
Mark VII Distributing – Saint Paul
Minneapolis Floral – Minneapolis
Minnesota Public Radio
Nordic Ware
Northern PCS Services
Oakridge Elementary
Office Depot
Old Spaghetti Factory – Minneapolis
Olive Garden – Brooklyn Center
Papa Murphys – Crystal
Petersen Motorworks, Incorporated
Piazza's Italian Ristorante
Po-Knee Toys – Wayzata
Professional Looks Etc. Salon
Promotion Resource Alliance
Richfield Flowers & Events – Richfield
Robin Lee's Hallmark – Crystal
Roly Poly Sandwiches – Crystal
Sacred Heart Elementary
Salon La Terre – Minneapolis
Sam's Club – Saint Cloud
Sherwin Williams
Spalon Montage
Spectrum Transportation – Maple Grove
Stems and Vines
Sweet Taste of Italy – Crystal
The Red Rose – Minneapolis
Theisen Building Supplies – Kimball
Time Out Sports Bar
Todaze Hair
Trillium Services – Duluth
Twin City Tile & Marble Company – Saint Paul
Valvoline
Voyager School
Walgreens
Warner Manufacturing Company – Minneapolis
Western Bank – Mounds View
Yellowstone Quilt