A Year After Our First Trip, "A River of Hope" Returns
to New Orleans to Help with Hurricane Katrina Clean Up and Rebuilding
The "River of Hope" volunteers returned to New Orleans for a sixth time, over the weekend of November 18 th through the 21 st, to continue to assist with the ongoing clean up and rebuilding efforts in the city. This was the largest of the "River of Hope" trips, and included sixty-seven volunteers. While Orion Associates, Meridian Services, and Zenith Services were well represented by our own employees, the majority of volunteers were building professionals who were substantially engaged in the rebuilding of
a number of homes.
As an organization, we are extremely proud of the work that we've done through this project, serving others in such extraordinary need. Jeff Greishar, is President of Tech Builders and has been one of our key partners in our efforts in New Orleans, leading our rebuilding efforts. As Jeff has described our work, " Over 850,000 homes were destroyed or made in uninhabitable by Katrina. Of the billions of dollars spent so far on reconstruction of the Golf Coast very little progress has been made. Much of the work we see is getting done is by volunteers and private investment. A FEMA trailer costs the taxpayer over $50,000 while the "River of Hope" is spending about $15,000 for materials to repair a flood damaged
home."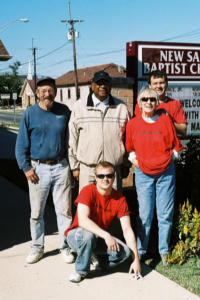 Once again, we want to thank those of you who have supported and contributed to our efforts during the past year. It has been with your help that we have been able to accomplish so much. We invite you to consider making a tax deductible donation to the "River of Hope" project so that we can continue our support for the people of New Orleans. Any amount truly would be welcome.
Donations can be made payable to the Zenith Services, Incorporated Disaster Relief Fund, and all donors will receive a charitable tax deduction receipt in the mail. In order to donate, please contact Jenny Schraut, at 763-450-5019, or at 612-432-5915 or e-mail her at .
All tax deductible donations to the "River of Hope" project shouldbe made to the:
Zenith Services, Incorporated Disaster Relief Fund

44 North 28 th Avenue, Suite A,

St. Cloud, Minnesota 56303
"River of Hope" Project
Participants
Jan Ball, Robert Ballinger, Carrie Becker, Nichole Beyer, Ryan Bose, Judy
Breyfogle, Steve Brink, Paul Chapman, Kendall Christen, Marie Christofferson,
Alicia Corbett, Liz Dalton, Alec Demgen, Matthew Frank, Greg Gedney, Jennifer
Gengler, Vana Greischar, James Gleason, Julie Gleason, Jeff Greischar, Laurel
Greischar, Gina Guggisberg, Lyndsay Hage, Madeleine Hage, Marya Hage, Stephen
Hage, Amanda Halvorson, Gregory Hinrichs, Kathy Holtz, Steve Hrbacek, Tom JoliCoeur,
Pastor Warren Jones, Phillip Kilchesky, Elizabeth Kunkel, Lori Kurtz, Steve
Kurtz, Joel LeVahn, Daniel Leitner, Joseph Lom, Whitney Lubrant, Bruce Marcus,
Christa Meyer, Dave Monthie, Rod Morkert, Sarah Olsen, Scott Rivard, Tim Ryan,
Rich Ruud, Gary Sauer, Jennifer Schraut, Alexander Thomley, Luke Thomley, Nicholas
Thomley, Rebecca Thomley, Toni Thulen, Kristy Toft, Alden Van Der Pol, Jennifer
Van Rooy, Laura Van Ryn, Cheryl Vennerstrom, Debra Weber, Michael Weber, Toni
Wessel, Garrett Wilkerson
"River of Hope" Project Sponsors
The following agencies and businesses have generously contributed to our "River of Hope" project, and many have done so several times. In addition, hundreds of individuals have given to our efforts as well. We would like to express our gratitude and deep appreciation to everyone whose donations have made our work in New Orleans possible. Thank you!
ABetter Inspection – Blaine
Abrams & Smith – Minneapolis
AC Carlson Appliances – New Hope
Ace Hardware – Long Prairie
Afton Alps – Hastings
Alan Michael Design – Edina
Alpine Capital LLC
Ambiance@53 – Little Falls
Anchor Bank – Wayzata
Anderson Engineering
Apperts Food
Arthouse, Incorporated – Minneapolis
Artistic Stone, Incorporated – Avon
Behind Bars Bike Shop
Berg Bag Company
Bethel University (Social Work Group)
Builders Association of Minnesota
Bird Island United Methodist Church
Blaine Jaycees Club
Bookin' It – Little Falls
Bonanza Restaurant
Buca De Beppo – Osseo
Camille's Sidewalk Café
Chili's
Chipotle
City of Bird Island
Copeland Buhl Company
Creative Shears
Crestliner, Incorporated – Little Falls
Crystal Kuemper and Quilters
Curves – Crystal
Daisy a Day Floral and Gift – Sartell
Dan Leitner C.P.A. – Blaine
Davanni's Pizza – Waite Park
Day Distributing Company – Maple Plain
El Loro Mexican Restaurant – Crystal
Emma's Restaurant & Lounge
Equinox Creative Production
Evergreen Equipment – Little Falls
Everyday People Store
Faith United Methodist Church
Falls Furniture – :Little Falls
Family Dentistry – Minneapolis
Five Star Heating & Air
Four Seasons Chiropractic – Plymouth
Fun Factory Day Care
Furniture Clearance Center
Geriton Medical Supply
Gilbert & Sullivan Very Light Opera Company – Minneapolis
Glacier Plumbing – Cedar
Grand Rios – Brooklyn Park
Grumpy's
Harding Lastrup Snodusters Club
Hirshfield's
Hollywood Video – Blaine
House of Pizza – Sartell
House on Crystal Lake
Hunstiger Hillcrest Farms
Indoff – Sauk Rapids
Industrial Metals, Incorporated
Innsbruck Jewelers – New Brighton
Italian Pie Shop – Minneapolis
Jerry O. Parker – Salon Levanté – Minneapolis
Jungle Theater – Minneapolis
Keep In Touch Massage
Kindercare
Kvasnick Photography – Saint Paul
Lagoon Cinema – Minneapolis
Lava Links – Roseville
Lily Pad Ceramics
Lions Club of Saint Augusta
Local Motion – Minneapolis
Long Prairie Food Center
Long Prairie Lumber Yard
Long Prairie Packing Company
Loring Corners – Minneapolis
M & I Bank
Maggiano's Little Italy – Bloomington
Mahowald Insurance Agency
Majors Sports Café
Mankato Truck Repair
Mant's Bowling
Marco Business Products
Mark VII Distributing – Saint Paul
Minneapolis Floral – Minneapolis
Minnesota Department of Transportation District 3 Employees
– Baxter
Minnesota Public Radio
Minnesota Sandplay Therapy Group
New Century Partners – San Francisco, California
Nordic Ware
Northeast Tree, Incorporated
Northern PCS Services
Northern United, Incorporated – Little Falls
Northwestern Bookstores – Maple Grove
Nowthen Nursery – Nowthen
Oakridge Elementary
Office Depot
Old Spaghetti Factory – Minneapolis
Olive Garden – Brooklyn Center
Petco
Petersen Motorworks, Incorporated
Piazza's Italian Ristorante
Po-Knee Toys – Wayzata
Planet Beach
Priscilla Circle of Linden Hills Church
Professional Looks Etc. Salon
Promotion Resource Alliance
Quality Label
Quizno's
Randall Building Supplies
Red's Auto – Pierz
Remodelers Choice – Minneapolis
Rick Day Day Distributing Company
Richfield Flowers & Events – Richfield
Robin Lee's Hallmark – Crystal
Roly Poly Sandwiches – Crystal
Sacred Heart Elementary
Saint Sabrina's
Salon E!
Salon La Terre
Sherwin Williams
Simon Delivers
Spalon Montage
Spectrum Printing – Little Falls
Spectrum Transportation – Maple Grove
Stems and Vines
Strategic Equipment & Supply – Saint Cloud
Styer Transportation – Lakeville
Tech Builders – Fairmont
Salon La Terre – Minneapolis
Sam's Club – Saint Cloud
Scrapbooks Plus – St. Cloud
Smith Brother's Decorating Center – Ham Lake
Spalon Montage
Spectrum Transportation
Sweet Taste of Italy – Crystal
The Red Rose – Minneapolis
Theisen Building Supplies – Kimball
Thielen's Meats – Little Falls
Time Out Sports Bar
Tires Plus – Blaine
Todaze Hair
Trillium Services – Duluth
Twin City Tile & Marble Company – Saint Paul
Valvoline
Victory Auto Service – Blaine
Voyager School
Walgreens
Warner Manufacturing Company – Minneapolis
Western Bank – Mounds View
Yellowstone Quilt